Leg pain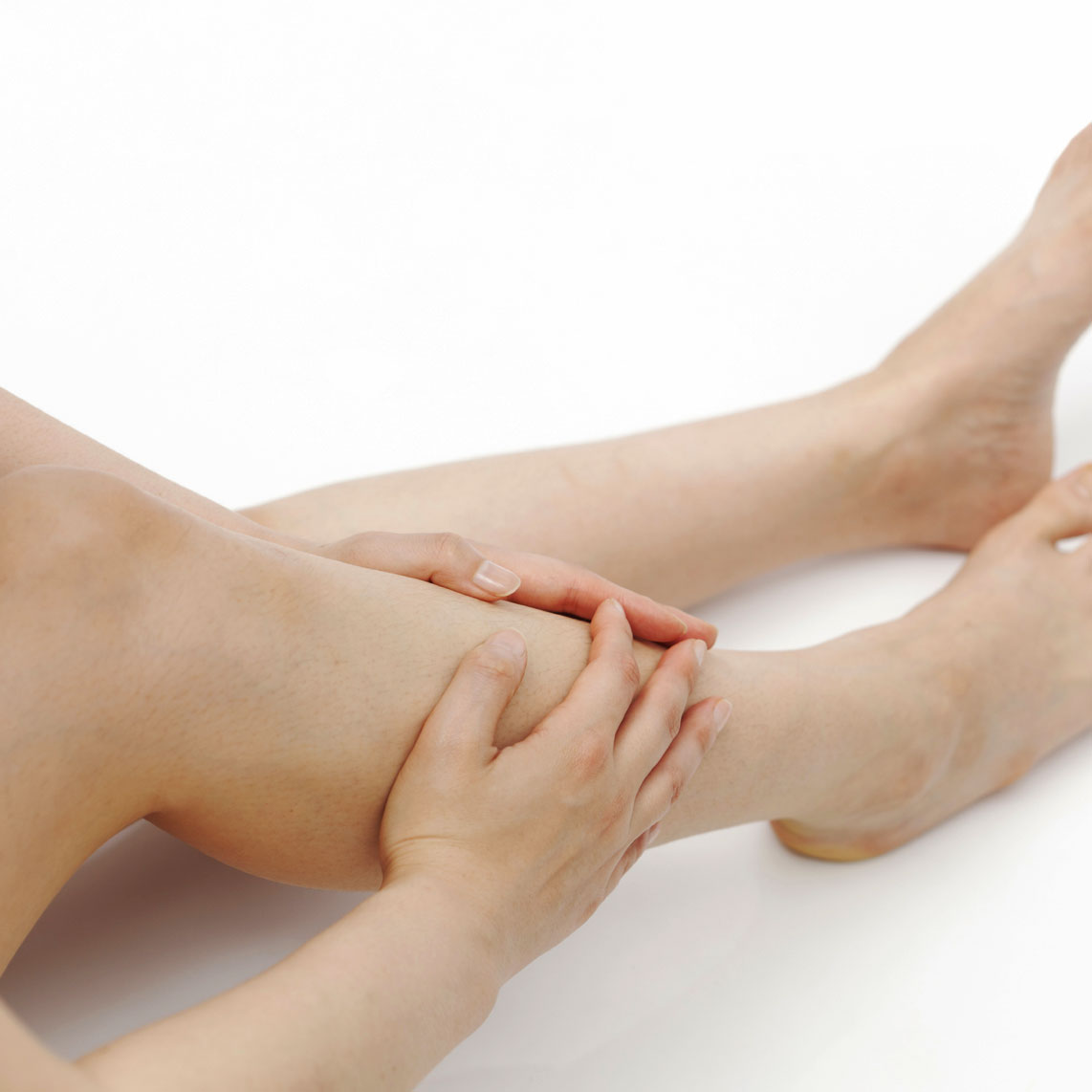 Overview
It is easy to forget how much we rely on our legs daily until they become sore. Pain in the legs can be continual or recurrent, and can impact the whole leg or a specific area. It can present in many ways – aching, dull or sharp pain, or even tingling. The pain can range from mild to disabling, and can affect your ability to walk on or place weight on your leg.
As the muscles of the lower leg control the movement and stability of the foot, increased activity or unsuitable footwear can cause sore and irritated muscles that result in leg pain. Leg pain is often caused through exercise-related injuries such as Shin Splints and Stress Fractures, two of the most common conditions treated by Dan Everson Podiatry. You can find more information about these conditions below.
Shin splints
Overview
Shin splints are a condition of the leg resulting in acute pain in the shin and lower leg caused by prolonged running, typically on hard surfaces. It is most common in athletes and sportspeople, and is the most common injury to impact runners.
Symptoms
A person with shin splints will most often experience pain in the lower leg or legs when they start or stop physical exercise. Sometimes the pain will be more evident the morning after exercise. Other common signs of this condition include:
Swelling and tenderness in the lower leg around the front or inside of the shinbone.
A feeling of tightness at the front of the lower leg.
Small lumps and bumps that can be felt over the bone on the inside of the shin.
Causes
The most common causes of shin splints include:
A change in duration, mileage or intensity of previous physical activity that can strain muscles, tendons, bones and joints in the area.
Flat feet that can pull at the shin tendons and cause small tears.
Incorrect technique when running, such as rolling the feet inward.
Inadequate or poorly fitting footwear leading which don't support the feet properly during activity.
Performing activity or exercise on hard surfaces.
Muscular imbalance and poor muscular flexibility.
Changes in bone structure of the lower limbs.
Feet with high arches.
Diagnosis
Dan Everson Podiatry can diagnose Shin Splints through history taking, a physical examination of your leg and a Biomechanical Assessment to study your range of movement to determine if there is a lack of mobility or tightness in the muscles of the lower leg.
In cases where a stress fracture or bone changes of the shin are suspected, an MRI or X-ray may help reveal the extent of any damage or change to the area.
Treatment
Podiatrists are the healthcare professionals best qualified to treat shin splints. Dan Everson Podiatry would typically suggest one or more of the following treatment methods:
Minimise or avoid activities that cause pain in the lower leg area until you have consulted with your podiatrist.
Apply ice to the affected area to reduce inflammation.
Use pain-relief medication.
A deep tissue massage can be helpful to break down and smooth out any knots in the muscles around the shinbone.
Perform regular exercises for the feet and legs to stretch the muscles and tendons.
Seek advice from your podiatrist on the most appropriate footwear for your needs and lifestyle.
To cure the condition and stop recurrences, Kinetic Orthotics from Dan Everson Podiatry can be prescribed. These orthotics are designed using patent-protected technology which optimise the way force is transferred as you move.
Prevention
Dan Everson Podiatry recommends the following activities to help prevent Shin Splints:
Seek advice from your podiatrist on the most appropriate footwear or footwear modifications for your needs. A shoe that offers great all-round support for your foot will help to prevent flat or inward rolling feet. Dan Everson Podiatry can suggest the best models and brands to suit your feet.
Perform regular muscle-strengthening exercises that target the lower leg and ankle.
Gradually increase your training intensity, mileage or duration to get your legs used to the extra stress over a period of time.
Avoid excessive running and jumping on hard surfaces.
Kinetic Orthotics from Dan Everson Podiatry can be prescribed to improve biomechanical function for those at risk of developing shin splints before the problem occurs.
Stress fracture of the leg
Overview
Stress fractures of the leg are injuries common in runners and athletes. They can be caused through repetitive force sent through a weak bone, and are most likely to appear in the tibia bone or the shinbone followed by the small bones in the forefoot called metatarsals.
Most stress fractures appear over time and may feel similar to shin splints if experienced in the lower leg. Studies have shown that female athletes are more prone to this injury than their male counterparts.
Symptoms
Depending on where your stress fracture has occurred, there are several ways pain will present itself:
Gradual or sudden onset of pain and tenderness around the affected area during exercise or activity – for example the front or inside of the tibia or shinbone.
Swelling and tenderness around the site of injury.
Pain that subsides at the completion of an aggravating exercise or movement.
Inability to place your bodyweight over the affected leg without experiencing pain and discomfort.
Causes
Common causes of stress fractures in the lower limbs are:
Overuse and repetitive stress in the lower limbs through increased running distance or training intensity.
Running or performing physical exercise on an unfamiliar surface such as switching from running on grass to running on bitumen or concrete.
Inadequate or poorly fitted footwear used whilst training or running.
Osteoporosis.
Biomechanical abnormalities in the legs.
A diet that does not provide adequate calcium intake. Calcium is an important part of a healthy bone structure and the body will leech calcium from bones for other functions if you are not getting enough in your diet. This can lead to bones that are not able to take on extra stress or force.
Diagnosis
Dan Everson Podiatry will perform a thorough physical examination of the affected area to assess possibility of a stress fracture. Your health and exercise history will be discussed and an X-ray, bone scan or MRI scan may be used to diagnose a stress fracture.
Treatment
A prescribed period of rest and inactivity of usually four to six weeks, followed by a gradual return to previous activity can be all that is required to treat some stress fractures. However Dan Everson Podiatry may recommend some of the following treatment methods to ensure your complete recovery:
A brace or cast to protect the stress fracture site and limit its exposure to additional stress or trauma.
Use of a cane or crutch to keep weight off the area whilst you walk.
Testing your mineral levels to assess any potential deficiencies that may contribute to the problem.
If you have a foot imbalance or biomechanical abnormality contributing to your condition, Kinetic Orthotics from Dan Everson Podiatry may be prescribed and inserted into your footwear to help balance weight loading in the foot and the way force is transferred through the body during movement. These orthotics are designed using patent-protected technology which optimise the way force is transferred as you move.
Prevention
Dan Everson Podiatry recommends the following activities to help prevent Stress Fractures occurring in the leg:
Gradually increase exercise and physical activity levels, duration and distance, particularly when running or jumping.
Add exercise variations to your training so that you are achieving the same goals but using your limbs and feet in different ways.
Strengthen the muscles in the legs and feet to protect your bones from movement stress.
Ensure you are getting enough calcium in your diet based on diet guidelines for your age and demographic.
Seek advice from your podiatrist on the most appropriate type of footwear for your activity and lifestyle.
Orthotics may be prescribed to help prevent an occurrence of this condition in those with an imbalance or poor biomechanical function.